Sponsored Advertorial
Helloooooooo!
I believe many of you girls out there love to make up so that you look pretty right?
But do you know what is the most important factor in a girl/guy to look attractive?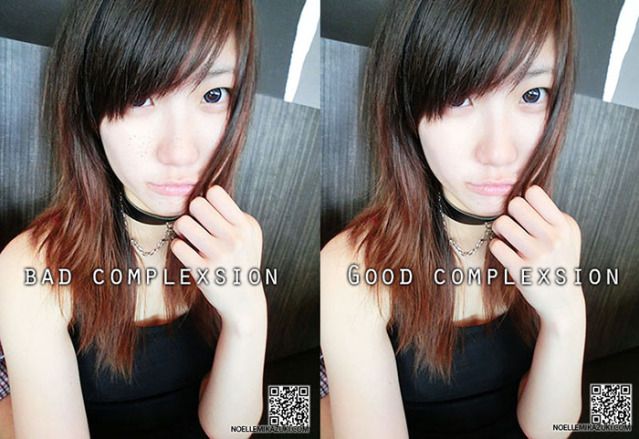 Everything in the picture is the same except the complexion of the skin!
(Sorry I spelt complexion wrongly in the photo, it's 3am+ when I'm editing photos, lol!)

I purposely photoshopped the left photo to have the "pimple scars even under concealer" look!
And yes, even the best concealer can't help you cover your pimple scars sometimes!!
(I don't know how to create wrinkles in photoshop -.-)


But anyway you get the point.

Complexion of a skin.


I personally HATE to use foundations because I feel very stuffy in it.
Unless for events where I'm working in (that'll have mass photo bombs by photogs),
I usually go out without make up, or with light eye make up + concealer only.


And this is how I look like with light eye make up + concealer only.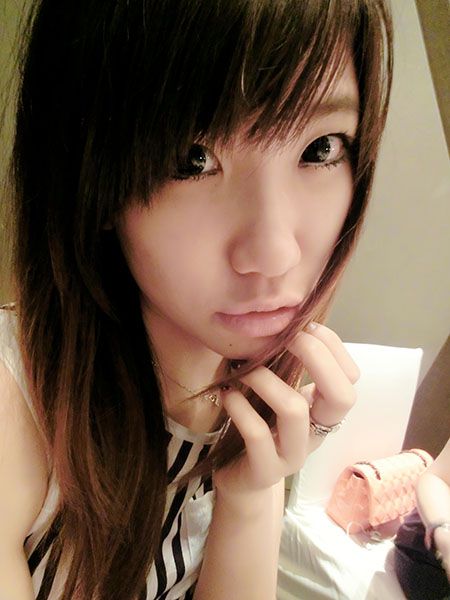 Everyone loves & wants smooth fair radiant skin without wrinkles or pimples scars!
But of course, not all of you would have the time to put facial masks/skin care everyday!
So I'm introducing you guys/girls a brand new product by BRANDS InnerShine!
Marine Collagen Essence Strip
What is Collagen?
Collagen is actually a fiber in the connective tissue throughout our whole body!
But people usually notice the face only though.
And do you know that our
skin begins to drop at an annual rate of 1.5%
once we reach adulthood?
With addition of our working stress, polluted air, alcohol, smoking, late sleeping etc. increases the speed of getting old skin!! Also known as
ageing skin
!!
(imagines self having wrinkles everywhere .__.)
Why must we Replenish/Restore Collagen?
For a simple reason, it actually helps to
maintain our skin suppleness & elasticity
!!
That's why many people buy Collagen facial products/ skincare products.
(Even my facial foam is collagen based!)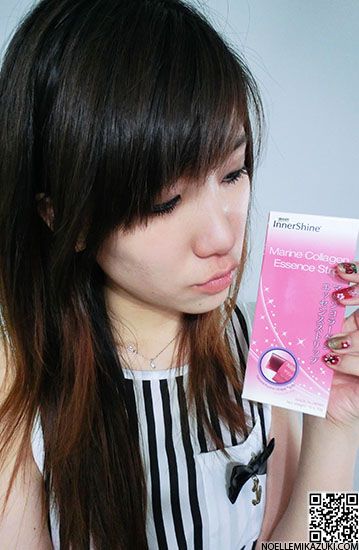 What does this product do?
This Marine Collagen Essence Strip actually contains
deep sea fish-derived collagen
with
Niacinamide
(form of Vit. B3 that provides skin cells energy for growth & repair)
&
Vit. E
(antioxidant that protects the skin from photo-aging effects)
!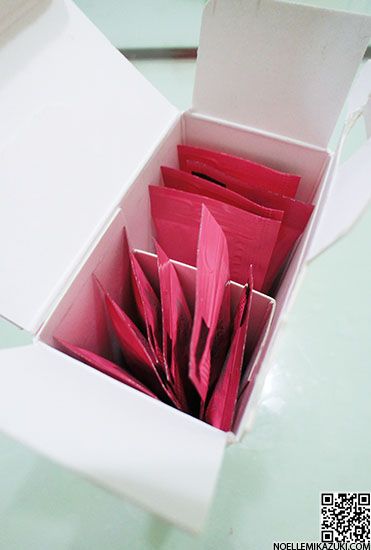 10 strips/box!!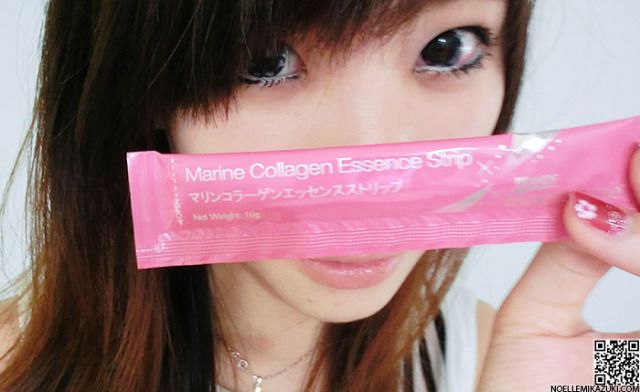 Look at it's pretty pinkish packaging!!
This was designed to be plush, potent and portable!!
Each strip contains only 12kcal & weighs around 10g?
It's really convenient to just put a few in your handbag and nom on some on
the way out or during snack time!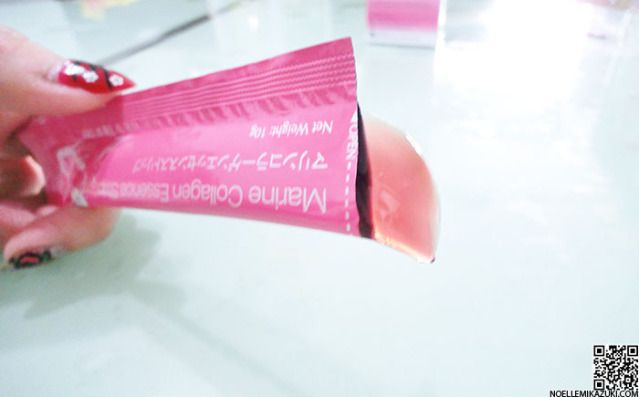 There's Kyoho grape juice contains to make this whole strip taste yummy! :)
And no. It does not have any fish taste at all!
(Some are worried due to the "marine"-"fish-derived-collagen")
And it taste a little like Qoo white grape!!
Really sweet tasting and it tastes just like a jelly!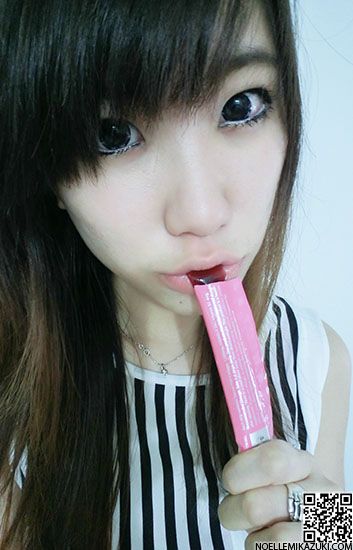 Here's me nomming my Collagen Essence Strip! :)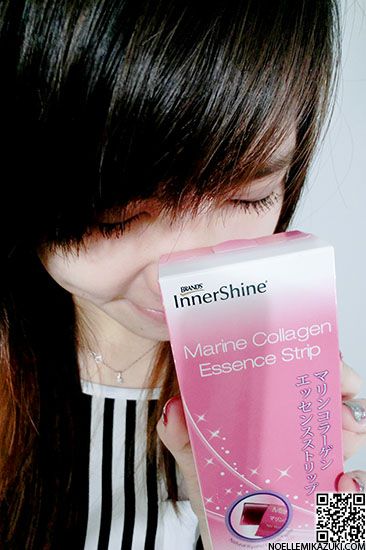 Super love this creation by BRANDS!!
They never fail to come out with smart ideas to improve healthcare!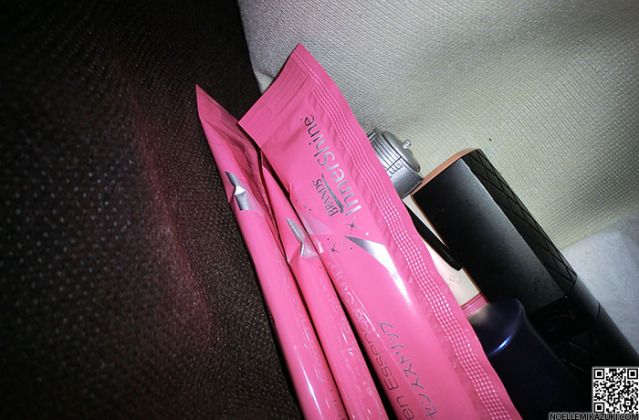 Yes, I
DO
put them in my bags as I suggested!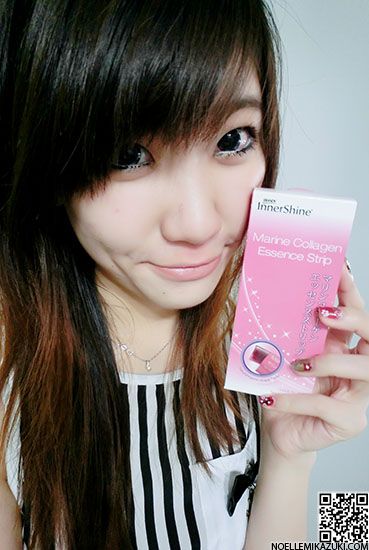 GO GET YOUR BOX NOW :)
&
STAY YOUNG & PRETTY LOOKING PEOPLE!