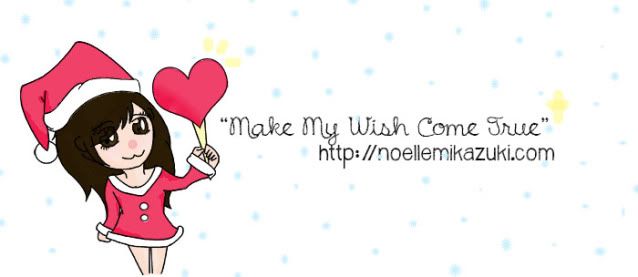 Finally, December is here!
And, first thing you'd prolly think of is..Christmas!
So yes, I'm feeling a lil' more santa-rish this year and I've decided to hold this giveaway!!
This time round, I'm gonna make it slightly more different and interesting :)
What do you have to do to take part in this Giveaway?
1. Like my Facebook Page:
2. Share my page's "Make My Wish Come True" Giveaway photo on your wall:
Stating & Commenting on the photo
"All I want for Christmas is ____________________ because __________________"
And yes.
You get to fill in the blanks! :)
You could write anything you want for Christmas, anything.
Eg.
"I want a shoutout on Twitter because I really love you!!" (Wahahahahhahahaa!)
"I want a fan-sign with my name on it because it'll be really fun!"
"I want a cover of **** song because I love that song"
"I want dollywink eyelashes because I want to look dolly"
"I want a pair of movie tickets because I wish to date this girl I really love"
Yes, literally anything.
(Though the above examples are pretty crappy)
The prize of this giveaway, is anything you wish for!
That's why it's titled "Make My Wish Come True" :)
Of course, if the thing you want is too overboard/expensive, it wouldn't come true.
(Cause I'm not the real Santa!)
There'll be definitely more than 1 winner for this giveaway, so..
ALL THE BEST
Hope you have been a really good kid this year and your wish would come true!




Giveaway will end on the 15th December 23:59.